About Mark E. Welch
Mark E. Welch was born in 1964 in the near coastal town of Springvale, Maine. His love for reading and writing was evident at an early age with an insatiable appetite for authors such as E. B White (Charlotte's Web), Mark Twain, and Ernest Hemingway just to name a few.
His love for the arts including reading, writing and music led him to become an accomplished carpenter and, as Mark likes to say, "A wanna be chef."
His passion for Tales of the Little Lagoon started over a decade ago and finally came to fruition with the publication of Kiwa's Story, a tale of a young dolphin's quest to find her lost mamma.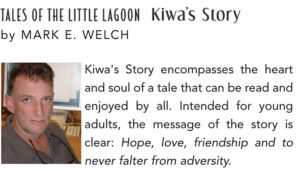 From the Author:
Greetings to everyone,
Over ten years ago I sat down and wrote about a dream that I had. A lot of writers will tell you something similar: Waking up in the middle of the night in a sweat, reaching for a pen and paper or maybe even waking their spouse and filling their groggy ears with ramblings of a scrambled idea.
The following morning on a Friday I sat down at my typewriter and started to type. I didn't sleep until Monday morning when I could type "The End" to a very rough manuscript. And then it sat on a shelf, yellowing and collecting dust until I decided it was finally time.
After hours of rewrite and editing, Kiwa is ready to start her adventure.
A famous author once said and I paraphrase: "There is no one in this world that sees words. Every one "sees" pictures in their mind." A story when read can be a magical journey of one's mind, and the story is different for each individual. My wish is for anyone that reads Kiwa and the books to follow will see their own "movie" in their mind and take Kiwa to places that no one has ever dreamt about.
I give you Kiwa. A sweet young dolphin and her many friends.
May the story inspire you, make you laugh and maybe bring a tear or two.
Mark E. Welch