Children's book ~ a dolphin story
Hi! My name is Kiwa! Welcome to my little lagoon!
Join me on my great adventure to find my lost Mamma.
We will travel through the sea and meet all sorts of new friends! Seals, turtles, pelicans, whales and even other dolphins!
There are dangers waiting for us as well. Come with me and meet Orca, a very angry killer whale!
Will I find my lost mamma? Come along with me to find out!
Tales of the Little Lagoon the dolphin book for children is available on Amazon.com and Barnes & Noble as a paperback as well as an e-book for Kindle and Nook.
The ePub from Barnes and Noble can also be read on an iPad with iBooks.
We hope you will enjoy the adventure's of Kiwa and her friends!
The author takes us on an adventure that binds what humanity holds endearing; the love for the creatures that share this world with us.
This story is centered on a young dolphin named Kiwa that has to find her own in a troubled sea filled with dangers and challenges. Having lost her mother to fishermen, she takes the challenge to go find her and finds herself along the way. Colorful characters and Kiwa's refusal to give up leads the reader on a wonderful journey.
Kiwa the dolphin book for children can be found in Kindle Books, Amazon Books and iPad book formats, also available in paperback from Barnes and Noble and Amazon Books.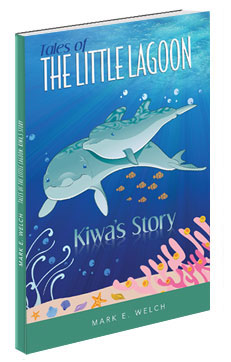 What people are saying:
I have read, Tales of the Little Lagoon – Kiwa's Story. You are to be congratulated for an outstanding literary achievement.
From chapter to chapter, I was held in suspense and eager to travel along with Kiwa and share the challenges of life. This is a smooth, excellent reading for young people; a great lesson in pursuing the fundamental values of success.
We will be looking forward to your future writings. Good luck and keep the intellectual wheels turning!
– Russell H. Day